Population Growth – Should we Stop It?
Attitudes around limiting grow vary according to religious affiliation.
Figure 1: Whether voters agreed or disagreed with the statement, "Utah Should Take Action to Slow its Population Growth in Urban Areas"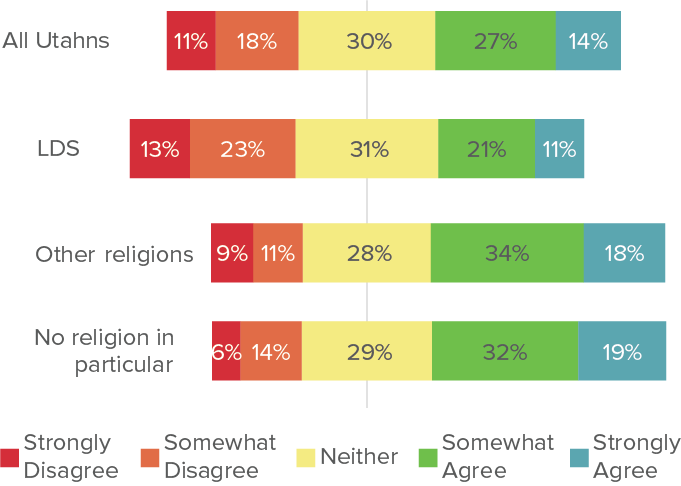 As outlined in Part III, much of the Utah Foundation's work directly or indirectly addresses the problems created by Utah's population growth. We often examine ways to address these problems. However, in the Utah Priorities Project survey, we asked voters what their position would be on limiting growth directly. When asked whether they agreed or disagreed with the statement "Utah should take action to slow its population growth in urban areas," more voters (41%) agreed with the statement than disagreed with the statement (29%). Voters more likely to indicate that Utah should not limit growth were individuals affiliated with the Church of Jesus Christ of Latter-day Saints (perhaps linked of their pro-family beliefs and immigration heritage), and older voters.
Utah's population growth is largely expected to be from natural growth (babies) over the next 50 years. Migration will also have a substantial effect. While direct policies limiting either of these are not feasible, failing to address growth could decrease Utah's quality of life, driving people to live elsewhere. Other policies that communities have used to limit growth have been height restrictions, density restrictions, strict single-family zoning, historical preservation districts and even sewer hookup restrictions. However, there are some tradeoffs to be considered to limiting growth in such a fashion, such as further housing affordability issues.
Another approach for slowing population growth is to ease up on policies to stimulate economic growth. Utah legislators are expected to consider removing or narrowing business incentives during the 2022 General Session. The Utah Foundation wrote on that topic in EDTIF Elevated? Utah's Evolving State Incentive Program.
See the other parts of this Growth in Utah post here:
Growth Part I: https://www.utahfoundation.org/2020-utah-priorities-project/significant-statistics-the-nations-fastest-growing-state/
Growth Part II: https://www.utahfoundation.org/2021/11/significant-statistics-priorities-for-addressing-growth/
Growth Part III: https://www.utahfoundation.org/2021/12/significant-statistics-growth-part-iii-how-utah-is-addressing-growth-pressures/