Utah Foundation's 2020 Utah Priorities Project found that housing affordability is a top issue to Utah voters. This is due in part to increasing housing prices.
Based on data collected by Redfin (a real estate brokerage that publishes national housing data), Utah's housing prices skyrocketed in 2020. (See Figure 1.)
A study by bankrate.com found that over the course of 2020, Utah's home home values increased by 15.4 percent, which was the third-highest increase among U.S. states. As part of its "Housing Heat Index" it also looked at job growth (Utah had the second highest), unemployment (Utah had the fifth lowest) and tax burden (Utah had the 8th lowest). These factors ranked Utah first in the study's "Housing Heat Index."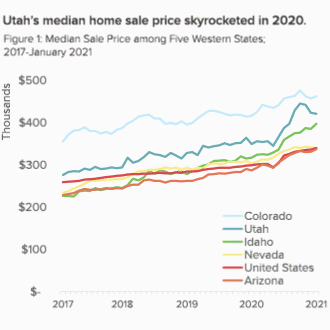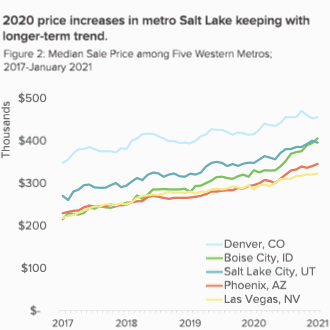 Much of Utah's increase seem to have been driven by high-priced second homes in Summit and Wasatch counties. If you look at the housing prices in the Mountain State Region's major metropolitan areas, increases are still present, but the Salt Lake City area is more in line with comparable locations. (See Figure 2)
Utah's monthly supply of housing stock (how long the inventory of houses will take to be sold based on current sale trends) is at historic lows. It is a trend the United States is seeing as a whole, but is dramatic in the Mountain States. (See Figure 3.)
Low monthly supply is a determined by the number of houses being listed, how long they remain on the market, and the number of buyers. The number of houses being listed is slightly above average, so it appears the current housing crunch is primarily driven by higher levels of demand.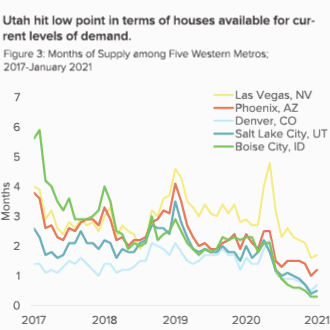 One theory commonly floated about the current crunch is that the higher levels of remote work have allowed workers to leave higher-density cities for locations with good job opportunities and a higher quality of life – both strong points for Utah, though Utah Foundation is unaware of any data supporting the theory itself.
A second factor for the housing crunch more broadly is record low interest rates. In May, the average 30-year fixed mortgage rate broke previous records and has since continued to fall.
See our other recent Significant Statistics housing-related blog posts here and here.