Having recently completed our "middle housing" project (see the project page here), the Utah Foundation continues to track Utah's housing issues. A recent find is the Carpenter Index.
AEI's Housing Center created its Carpenter Index as a way of tracking housing affordability in the country's 100 largest metro areas. The Index looks at the income for the average carpenter-headed household as a proxy for blue-collar Americans' incomes. The gist of the question: Can carpenters afford the homes they build?
In 2012, 60% to 70% of homes were affordable to Ogden's carpenter-headed households. In Salt Lake City and Provo, 50% to 60% were. By 2021, only 10% to 20% were affordable in Ogden and Salt Lake City, while less than 10% were affordable in Provo.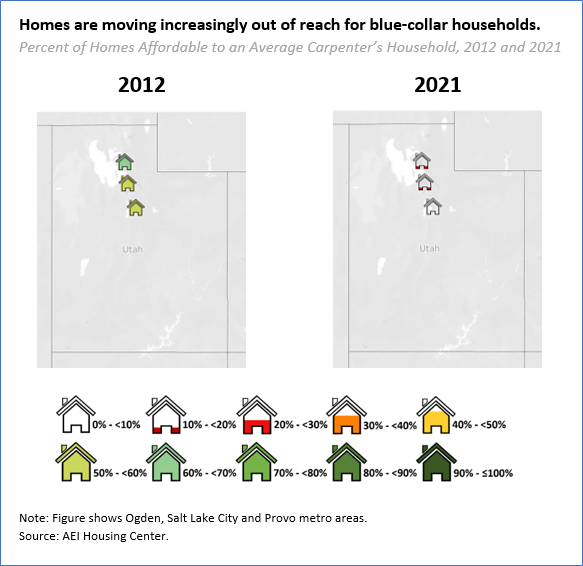 In fact, Salt Lake, Ogden and Provo are all among the 10 least affordable metros on the Carpenter Index for 2021.
See an interactive map as well as the index and its methodology here.
Source: AEI Housing Center, Ed Pinto and Tobias Peter, The Carpenter Index: They can build it, but can they afford it?, April 14, 2022, https://www.aei.org/the-carpenter-index/.