Highly Productive. Nationally Recognized. Exceedingly Vital.
Our work in 2022 is guiding policy leaders. We have made a direct impact on housing policy. We are shedding bright new light on Utah's social fabric, understanding police recruitment and retention, pushing energy efficiency, opening opportunities for post-secondary education, informing infill development, and tracking Utahns' quality of life. We participated in conferences, hearings of public bodies and symposia, and met with dozens of civic leaders and elected officials. Our work was covered in the news media more than 75 times.
With 14 major reports, 12 op-eds, 11 podcasts, six Significant Statistics posts, three videos, three Breakfast Briefings, and one brief, the Utah Foundation ended 2022 with 50 unique work products. That is nearly one work product per week.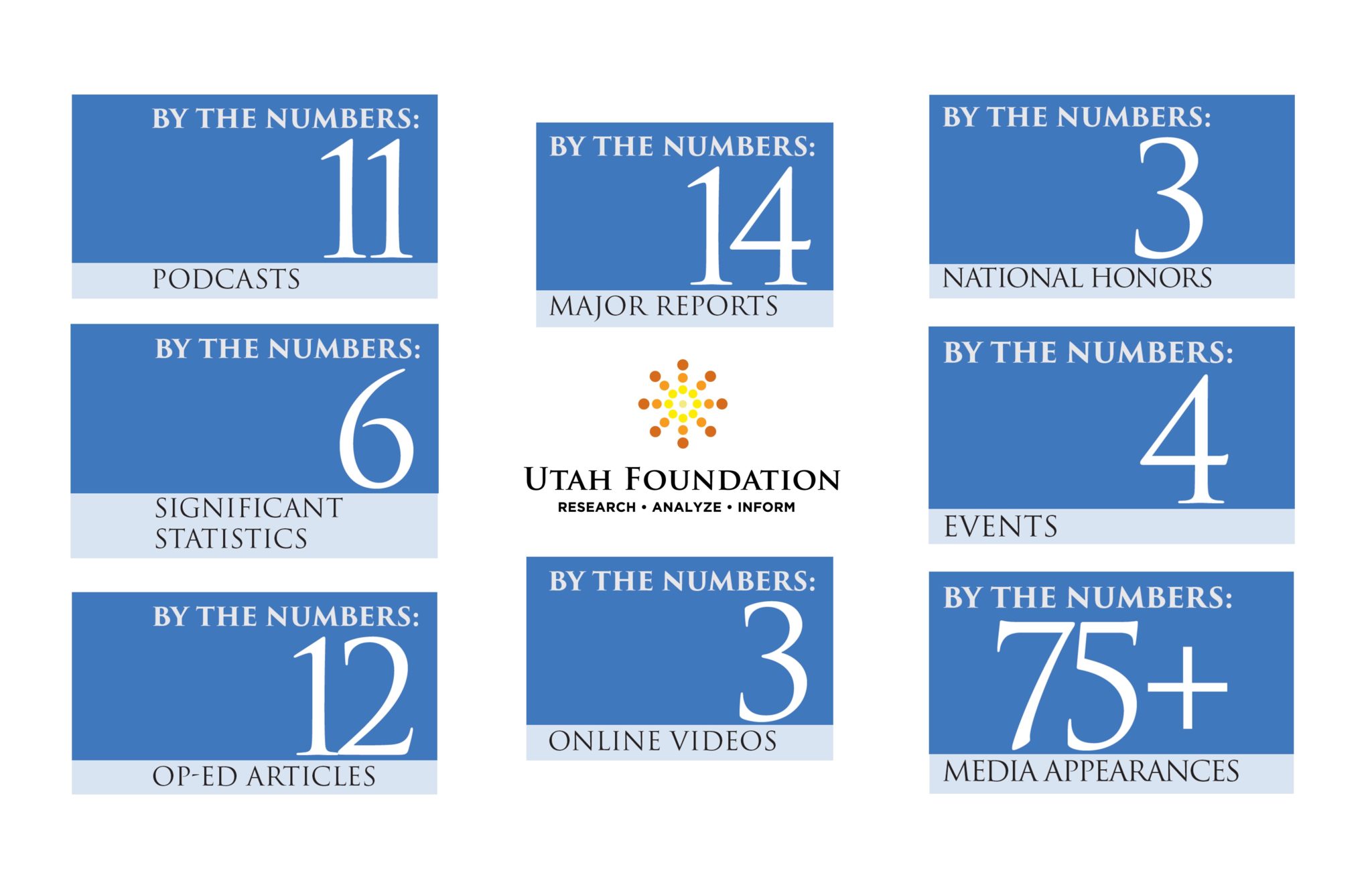 In 2022, the Utah Foundation was honored with several awards from the Governmental Research Association, a national association of governmental research professionals. The GRA presented the awards at its 109th annual conference and meeting in Philadelphia. The Utah Foundation's honors were as follows:
Opening Up the Playbook to Expand Housing Opportunities
In 2021, we launched our multi-part study on the so-called "missing middle" of the housing market. The first revealed shocking challenges emerging in the housing market. The second, released in December, provided an overview of "middle" housing across Utah's most populous counties.
In 2022, we completed the project. Our third report looked at what Utahns want in housing development. The final report examined obstacles to "middle" housing and revealed opportunities for its expansion across the state.
Thanks to Salt Lake County, the Sorenson Legacy Foundation, the Utah League of Cities and Towns, the Wasatch Front Regional Council, and Y2 Analytics for providing support to the study.
How Strong is Utah's Social Capital?
In 2021, the Utah Foundation launched the first Social Capital Series with a report on civic engagement, social trust, and the strength of associational life in Utah.
We completed the project in 2022 with five additional reports. These looked at the health of family life for Utahns, social cohesion among residents, the state's focus on the next  generation, and social mobility. The final report and series index showed that Utah topped the nation for social capital.
Thanks to the George S. and Dolores Doré Eccles Foundation for making the series possible.
Filling in the Gaps with Thoughtful Development
As part of the Utah Foundation's Better Beehive Files, Filling in the Blanks: How Utah Communities Can Deploy Infill Development to Advance Quality of Life, addresses the development of vacant or underutilized land within existing communities. It examines trends, the potential benefits of additional infill, obstacles standing in the way, and policy options to support infill development.
The study was made possible with project supporters, including Union Pacific, the Utah League of Cities and Towns, the Wasatch Front Regional Council.
Exploring Energy Efficiency Opportunities
Utah has kept up to date on commercial building code standards, but it has maintained residential building standards that fall short of more efficient building practices. To a Higher Standard: Building Codes, Improved Efficiency and Air Quality in Utah explores possible new standards with an eye toward air quality, examining costs and benefits.
This study was made possible with the support of UCAIR – the Utah Clean Air Partnership.
Boosting Educational Attainment
In April, we continued our series on post-secondary educational attainment with Broadening Horizons: Clearing an Early Path to Post-Secondary Success. The report was broadly embraced by the state board and post-secondary institutions across the state. Additional installments in the series will emerge in 2023.
The report was made possible with support Union Pacific and the Brent and Bonnie Jean Beesley Foundation.
Looking in at Utahns' Quality of Life
In collaboration with Intermountain Healthcare, the Utah Foundation periodically surveys Utahns to understand how they feel about both their community and their personal quality of life.
In June, we released The 2022 Utah Community Quality of Life Index: Is a Booming Economy Making Life Better? In September, we released The 2022 Utah Personal Quality of Life Index: Is the Well-Being of Utahns in Decline? Finally, in December, we released The 2022 Utah Misery Index: A Glimpse into the Fiscal Measures of Happiness. We plan to include similar supplements like the Misery Index as part of our ongoing Quality-of-Life series.
This study was made possible with the support of WellQuest Living and the George S. and Dolores Doré Eccles Foundation.
Keeping Up with Employment Needs
Part of the Utah Foundation's mission is to focus on workforce development. In 2022, we released To Protect and Serve: Meeting Law Enforcement Recruiting and Retention Challenges in Utah. This report highlights the scope of the police shortage problem and ways that local governments and other stakeholders can address the issue.
Special thanks to the Utah League of Cities and Towns for providing project-based support for this report.
As part of its portfolio, the Utah Foundation undertakes consulting work and projects commissioned by public and private entities. We completed one commissioned brief this year with America's Nursing School: The Nursing Program at Western Governors University. The Utah Foundation will continue to focus on workforce development in 2023 with a report in bolstering labor-force participation rates in the state.
Meeting Utahns Where They Are
In recent years, we have begun producing online videos summarizing our work; we produced three videos in 2022, on "middle" housing and Utahns' quality of life. Our videos had 511 unique views during the year – 40% of which were of our middle housing video.
We produce our "Utah Thrives" podcast on a monthly basis. Our podcast pages had 788 unique visitors; about one-in-three were to our "middle" housing podcasts. We also write op-ed commentaries highlighting our work on a monthly basis, for the Deseret News, the Salt Lake Tribune and other dailies.
We also keep interested parties informed via regular email updates, Facebook posts, Tweets, and LinkedIn posts.
In 2020, we launched a new series of briefs called Significant Statistics. We continued the series in 2022 with five installments, on topics ranging from housing affordability to education spending to population growth. We had about 1,300 unique visitors to our Significant Statistics pages.
Most people accessed our information via our website. We saw and average of 3,500 unique monthly visitors to our site. And during 2022, our reports page had 15,500 unique visitors – about 9% of which checked out our most recent middle housing reports.
Looking Ahead
Looking ahead to 2023, the calendar is brimming with new reports in the works. We'll see one more report in our Post-Secondary Attainment Series; a report on digital learning; a report on building healthy communities; a report on expanding the number of and access to Utah's green spaces; reports revising water use in the state; and more. And there will be even more to come in 2023. In short, we're looking forward to another extraordinary year. Thanks to our friends and supporters, who make it all possible.
Top Utah Foundation Findings of 2022
Each year, the Utah Foundation board of directors chooses our top findings. This year, we see a lot of tie votes. And a lot of important findings.
1. Utahns' perception of community quality of life has declined since 2013 – from an index score of 73 to 64. (Tie.)
1. Housing affordability and other costs of living accounted for nearly two-thirds of the overall decrease in community quality of life from 2018 to 2022. (Tie.)
3. Students who fill out federal student loan and grant applications are far more likely to continue their education past high school than those who do not. Utah currently ranks 50th in the United States for completing federal applications.
4. The average pay for local law enforcement officers in Utah in 2021 was nearly $57,000. This compared to more than $80,000 nationally. (Tie.)
4. While Utah families may be well-formed, the interactions within those families have for years been of poor and declining quality. (Tie.)
6. Utah's state and local expenditures on education as a share of personal income fell by more than one-fifth from 2008 to 2019. Utah now falls below average. (Tie.)
6. Utah has the largest share of its population in the middle class. (Tie.)
6. As to intergenerational economic mobility – or children making more than their parents – Utah ranks in the top third of the U.S. Among the Mountain States, only Montana outperforms Utah (Tie.)
6. Implementing the 2021 energy efficiency standard in Utah would reduce natural gas usage by one-third. (Tie.)
10. A key barrier against new middle-housing development is zoning. (Tie.)
10. In 2021, Western Governors University produced a whopping 17% of the nation's registered nurses. (Tie.)
Special Events
In 2022, the Utah Foundation staged three Breakfast Briefings and our Annual Luncheon.
Our March Breakfast Briefing on housing affordability was sponsored by Salt Lake County Regional Development and the Utah Transit Authority, and hosted by Salt Lake Community College. Our May Briefing on thriving in a clean economy was sponsored by Western Resource Advocates and the Utah Transit Authority, and hosted Western Governors University. Our October Briefing on the future of transportation was sponsored by HNTB and hosted by Zions Bank.
Our Annual Luncheon in November honoring Katharine and Robert Garff was a sold-out affair. It featured renowned education innovator Michael B. Horn.
Call to Action
The Utah Foundation relies on the support of business and civic leaders and average citizens to produce the high-quality, independent research for which we're known. To become a member or sponsor one of our projects or programs, contact us at 801-355-1400. Sign up for our newsletters and keep apprised of newly released reports and upcoming events.