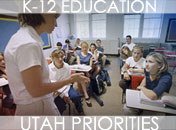 Based on comparisons to national averages in school test scores, it is commonly stated that Utah's education system performs well, despite having low funding. However, Utah is much different than the average state, with low poverty, many college-educated parents, and a small minority population. Those factors should lead to higher-than-average test scores.
Using the National Assessment of Educational Progress (NAEP) to compare 4th and 8th grade math, reading, and science scores from 1992 through 2009, the report finds that Utah is underperforming compared to states with similar demographics. Among these peers, Utah most often ranks last in these tests. In addition to persistently low peer-state rankings over the past two decades, Utah's national ranking on these exams has fallen significantly.
Utah Foundation used three criteria to determine demographic peer states:  poverty levels, parental education levels, and ethnic profiles. These "non-school" criteria were selected because of the significant impact non-school factors have on student achievement levels.
Utah has been performing at the low end of its demographic peer group for nearly two decades, most often ranking last among these peer states.  Moreover, with respect to national rankings, Utah has been trending significantly downward and even scores below the national average in fourth grade reading.
Utah's math scores have increased over the years, but other states' scores have risen faster, leading to a lower ranking for Utah. Reading scores have been flat for Utah during this period. Utah's science scores are higher than the national average but at the bottom of peer states.
Minnesota is the one state that remains Utah's peer over all of the years studied, and its test scores far outpace Utah's. The gap between Utah and Minnesota has widened in recent years.
Clearly, there is room for improvement in Utah's classrooms. The fact that similar states are outperforming Utah in the classroom is an issue that policy makers, education associations, teachers, and education officials must further examine if Utah is to move forward and compete with, not only national test scores, but the test scores of the states that have some of the same demographic advantages as Utah.