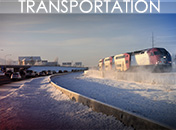 Funding Utah's transportation needs is a significant economic and fiscal challenge for state policy makers.  Over the next three decades, Utah's population is set to increase by over 60%. Coupled with this significant growth is the possibility of an increase in vehicle miles traveled.  In the past, the state has relied on the Transportation Fund to support transportation projects, but this has changed in the last two decades as the state has had to rely on non-traditional funding sources.  Despite the addition of these funding sources, revenue will not be sufficient to meet population, highway and transit growth.
This research report explains how transit, roads and highways are currently funded in Utah and provides information and projections on potential funding sources to meet Utah's transportation needs. Fuel taxes are a convenient source for generating significant funds for transportation, and have been used in Utah for nearly a century.  However, they suffer from significant economic disadvantages, especially from declining purchasing power as the tax rate is devalued by inflation and as vehicles become more fuel efficient.  This report suggests several options to address this challenge: a biennial two-cent increase, indexing the tax rate to inflation or adjusting the tax every ten years.  Depending on how a change in the fuel tax were to be implemented, it would garner $4-$7 billion in additional revenue by 2040.
Some states levy sales taxes on gasoline, either instead of or in addition to a state motor fuel tax. These have the benefit of generating additional revenue, though like all sales taxes, are regressive in nature. If such a tax were implemented, it would ideally be a supplement to the current per-gallon fuel tax rather than a replacement, and would generate $10-$20 billion by 2040.  Other options include increasing motor vehicle registration fees, severance and refinery taxes, or implementing a tax on vehicle miles traveled (VMT).  A VMT tax directly taxes drivers for the miles driven on highways and roads, and could generate $780 million to $5.9 billion in additional revenue. However, it would require a completely new system of collecting revenue and measuring VMT, and would need to be tied to inflation or require periodic increases in order be a stable source of revenue.
For transit funding, the largest revenue-generating option would be to enact a new property tax increment for UTA services ($5.8 billion).  Other revenue options could provide smaller revenue-generating capabilities, including an increase in county-wide sales taxes within the counties served by UTA ($3.8 billion), increased fares, and increases in taxes on hotels or rental cars ($139 million).