Utah's population is projected to grow by 2.5 million people in the next 35 years. The implications of this projected growth are far reaching for state and local agencies and for policy makers. Previous reports in the 2014 population growth series have discussed where growth will occur, who new Utahns will be, and what they will need to continue to have the quality of life that current Utahns enjoy. This report, the third in a four-part series, focuses on the interaction between population growth and future water supply.
Two different viewpoints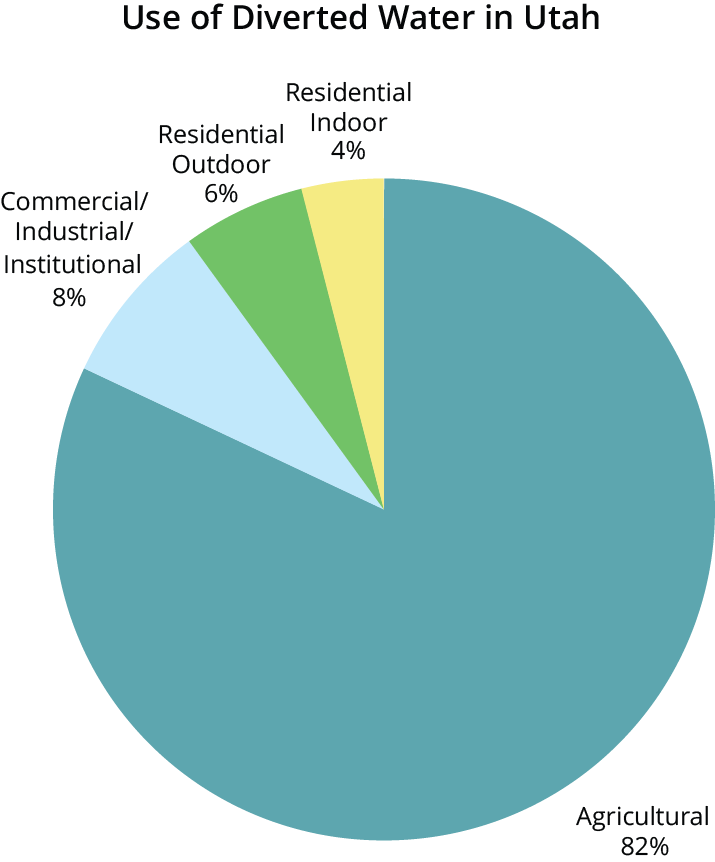 on Utah's water future exist – that the state currently has enough water for future demands or the state needs to develop multiple projects to ensure continued water sustainability. Increased pressure on the existing system created by projected population growth provides the groundwork for these two viewpoints. For those who believe the current, developed supply is sufficient, increased emphasis on conservation and better water management are key policy strategies. For those who think that population growth will overrun existing current supply in the next 15-20 years, emphasis is placed on development of new supply through large and small-scale projects. Financing of new development and conservation are both important topics, but this report also discusses impacts created by climate as well as conversion of agricultural land and water rights to municipal and industrial uses.
Since Utah is a desert and water is an essential element of sustaining life, discussions on water policy are not going away. This report presents six recommendations for policy strategies or further study in the fields of rate structure, local response, and planning.
RECOMMENDATIONS
Rate Structure
Re-examine the role of property tax funding for water agencies, with a goal of reducing tax support and increasing water rates.
Create more significant price gradations in block-rate water plans.
Install new technology to monitor water use, such as advanced metering infrastructure (AMI), which provides consumers with real-time feedback on their usage.
Local Response
State and water conservancy districts should continue to strongly encourage municipal governments to create or update existing ordinances that support conservation.
Planning
Analyze future needs in a range of population projections and consumption levels.
Establish better connections between city planning departments and water conservation districts.