Observers often assume that government jobs pay less than the private sector but provide better benefits. With regard to pay, Utah Foundation's 2019 report, Apples to Apples: How Teacher Pay in Utah Stacks Up to the Competition revealed that teachers do tend to make less than people in the private sector, while teacher retirement benefits tend to be more generous. This compensation mix affects schools' recruitment and retention strategies. Apples to Apples focused mostly on pay, not retirement benefits, but called for policymakers to examine pay in the broader context of compensation. To that end, this report delves into the teacher retirement picture, making comparisons between Utah and its neighboring Mountain States.
Key Findings
In Utah, teacher retirement benefits are provided as part of the Utah Retirement System, which underwent major changes in 2011 that decreased investment risk and public cost. The changes also reduced the generosity of the plan for teachers.
The old pension plan was much more beneficial to career teachers compared to the new teacher retirement plans, which are more suitable to teachers who may switch careers.
The new teacher retirement plan's costs are roughly double the actual invested benefit per new teacher. The other half is going toward paying down the unfunded liabilities that the Utah Retirement System accrued in the past.
Utah's teacher retirement offerings are different from other Mountain States in that Utah's newer plan types include an option that is similar to the private sector model.
While Utah's plan benefits may be lower in Utah than its neighboring Mountain States, the plans in the other seven states require teachers to provide between 7% and 15% of their salaries to participate. Utah's teachers are not required to contribute to their retirement.
Under the old retirement plan there was no required employee contribution. Likewise, the new plan currently has no required employee contribution – though the law allows for one as necessary to keep the Utah Retirement System adequately funded.
Utah employers' contributions into the Utah Retirement System are 10% of employee salaries. Among the Mountain States, only Wyoming has a lower employer contribution rate.
Of the eight Mountain States, only Idaho has a better-funded retirement system than Utah. Additionally, Utah's level of funding is based on relatively conservative investment assumptions.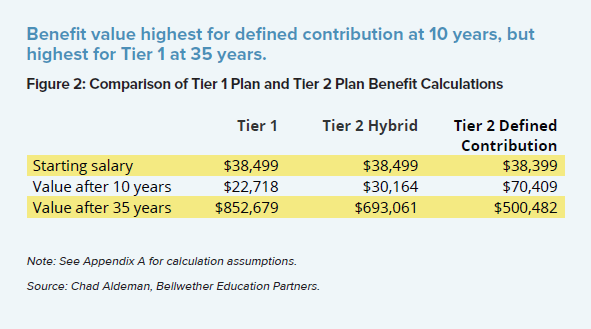 Download this report, here.