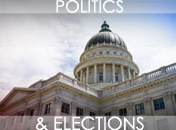 For most of its history, Utah has used a convention-primary system to nominate candidates for elected office. In the spring of general election years, citizens in small caucus meetings held throughout the state elect delegates to represent them at county and state conventions. At the state conventions, delegates nominate candidates to compete for their party's nomination in the primary election, or, if a candidate receives enough votes, they receive the nomination outright and proceed straight to the general election.
Utah is one of only a handful of states that still uses a convention, and the only one that allows political parties to preclude a primary election for statewide or congressional offices if candidates receive a high enough proportion of delegate votes. In most of the states that also use conventions, candidates must garner a certain amount of delegate votes to proceed to the primary election. However, they can also bypass this process and gain access to the primary ballot via petition. This system makes Utah unique among states and has been controversial in recent years, especially when delegates rejected Governor Olene Walker in 2004 and then-Senator Bob Bennett in 2010.
Utah's historically high voter turnout rates have consistently declined in recent decades. In 1960, 78.3% of the voting age population voted in the general election. This declined along with national voter turnout rates in the 1970s due to the passage of the 26th Amendment which lowered the voting age to 18. Since that time, national voter turnout rates have remained stable. However, in Utah, they have continued to decrease, and by 2008, had fallen to about 50% of the voting age population, just below the national average.
Recently, questions have been raised about whether Utah's system of conventions and primaries should be reformed, and how these changes would occur. Those calling for reform argue that Utah's caucus-convention system disenfranchises the majority of voters, and that convention delegates do not represent the average voter. Supporters of the current system argue that a party's right to association is protected by the First Amendment, and that they have the right to govern themselves and control how their candidates are selected.
Reform would most likely come from the Legislature, the parties, or from a citizen initiative. However, any reform would possibly face litigation by others who view the reform as unconstitutional.
(Updated on 6/19/2012 to correct historical references to state convention vote requirements)