Utah Priorities 2012, Issue #7: Environmental Issues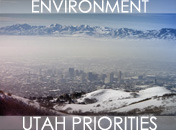 In 2012, voters listed environmental issues as the 7th most important priority in the election year. This brief reviews how Utah cities and counties compare to the rest of the nation in terms of air quality, as well as the future of regulating greenhouse gases as an air pollutant. It finds that the state as a whole is compliant with most EPA required air pollution measures, but struggles with short-term ozone and particulate matter levels, mostly due to northern Utah inversions.
As part of our Utah Priorities Project, this month Utah Foundation releases a series of policy briefs of each of the top ten issues identified in our 2012 Utah Priorities Survey. These briefs provide important information and policy analysis to ensure candidates and voters are well informed of the facts and trends related to each of the top ten issues.
Read this Utah Priorities Brief
Also see Utah Foundation research from recent years on environmental issues: